DMIA Land (India) Pvt. Limited incorporated in 2005 and is a company of DMIA Group Malaysia, Having participated & contributed to the successful growth story of Indian Infrastructure Industry, and completed a number of prestigious projects in India Including Malaysian High Commission Complex in New Delhi and four major expressway/highway projects in the states of Karnataka, Rajasthan, Madhya Pradesh and Tamil Nadu under National Highway Authority India (NHAI) and State Highways.
Since its inception, We have grown leaps and bound, helmed by a highly competent management team and team of professionals representing a wealth of experience from across the length and breadth of the industry, we believe that we are well prepared and positioned to scale even greater heights in the construction and development industries in near future with Building seamless connections and facilitating Socio-Economic-Cultural developments, we are proud to be part of India's transformation.
Our core strength lies in our ability to execute projects on , Engineering Procurement & Construction (EPC) for Road,Rail & property development.
At DMIA India India we believe to deliver our projects on time, within budget and maintaining the highest standard of quality.
To realize the nations', the societies and the people's vision of a modern, efficient and high quality environment in which growth is sustained, progress inspired and development accelerated.
To be an eminent construction company by delivering world class projects with integrity, foresight, professionalism and competence.
To ensure high-standard contract and construction management services by providing the best people, expertise, skills and resources.

To maximize customer satisfaction by fulfilling, if not exceeding,the promise of timeliness, budget control and quality attainment.
To stay at the forefront of new development regarding infrastructural, residential and commercial projects by continuously investing in our human capital, management system and industry expertise.

Pankaj Agarwal– CEO and Director Indian operations, after completing his B-tech & M Tech from IIT Delhi served in various positions in different groups like IRCON (13 Years), IJM (15 Years out of which 3 years as COO India), GVK (09 years as President- EPC Division) .
Message :
I believe India's growth is exceptional, Especially in Infrastructure sector and being a Multinational we thrive for opportunity to showcase our experience in execution of projects varied from Road, Commercial buildings, Railway and Property Development.
With support of our group companies from Malaysia we are confident to build and deliver any project on time, within budget and maintaining highest qualities.
Our growth story in India started in the year 2002 with a lot of successful chapters latest being the completion of world class Malaysian High Commission project in Delhi.
We are always striving for win-win situation. We believe in building long lasting business relationship.
I will end with Napoleon Hill quote "Strength and growth come only through continuous effort and struggle".
Message From Director – Business Development & Contracts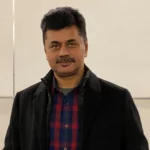 Lalit Arora – Director – Business Development & Contracts
India is all set to invest Rs. 50 Trillion (USD 780 Billion) in the sector of Infrastructure and Construction in the next 4 years. That's very exciting number for entire Infrastructure Industry in India. DMIA is committed to contribute to India's phenomenal Growth Story with our expertise and Innovative approach.
Our tagline of "Shaping tomorrow's world with today's excellence" shows our commitment and clear vision.
With two decades of rich experience in India, we are pretty much confident to execute with high quality standards and timey deliver any Mid/Large Size Infrastructure Project in the field of Highways, Railways and Buildings.
DMIA is a renowned name in the field of Property Development in Malaysia. Our Board of Directors have mandated us to replicate the success story in Property Development in India.
At DMIA, we always believe in Team-Work and Joint Destiny. Leaders & Team Members are biggest assets of our organization. Every single Human Resource of DMIA is extremely talented and fully committed to their respective task and work.
Building a better World comes with lots of compromises with respect to Environment. We at DMIA practice best possible conservation & protection of World Environment and we strive to add loads of Greenery in all our projects as part of our CSR Initiative.